Volume 99/Issue 7Circulation:
One thousand and seventy-six. Welcome all!
Note from the Mods:
Please encourage friends on your friends list to join and send their news. If you have an announcement you would like to make, a fic you'd like to promote, a question you'd like to ask, we invite you to simply format it according to the rules on the info page and email it to
middle_earth_news@yahoo.com
. You do not have to be a member to post but we are an open community and encourage everyone to join now. Only the mods may initiate new posts but comments are encouraged.
MEDIA NEWS:
•
From TheOneRing.net:
~New Video: Hobbit TV Spot #6!
The 6th Hobbit TV spot is up on the official movie blog. While only 33 seconds long, we get some new dialogue between Bilbo and Thorin and a few new shots to go with it. Check it out here!

~Whatever happened to Gandalf's silver scarf?
Spy report from Dimli: Many Tolkien and Peter Jackson fans have pondered this vexing questions for over 10 years and from the LOTR movies may secretly be rather disappointed from what they have seen on the big screen. TORN'S Elven super sleuth Dimli has been delving deeply and can now tell you the story... [More]

~Dori makes a request from a Prince
While visiting Wellington in New Zealand, Prince Charles -- who is here for the Queen's diamond jubilee tour -- made a stop over at Weta Workshop, where he meet Sir Peter Jackson and Sir Richard Taylor, and Dori (Mark Hadlow), who makes a special request of the Prince. [Watch here!]

~For Your Consideration...The Hobbit
Warner Brothers has kicked off their Awards Season website for many of their films, The Hobbit: An Unexpected Journey among them. The page links to the Official Website and trailer, gives a brief synopsis of the story, and then lists all the names of the people who worked in eligible categories... [More]

~HobbitCon to take place in Germany next Spring
Imagine for a moment, if you will, that you jump forward in time more than three months, ending up in the Spring of next year. You've joined fellow fans at the world premier of The Hobbit: An Unexpected Journey in Wellington; you've had a great time at a local Line Party; you've seen the movie umpteen times... [More]

~Happy Hobbit: Second Breakfast Blackberry Cake -- Episode 04
The latest edition of 'Happy Hobbit' is here! In this episode, learn how to make a Blackberry Cake. This delicious buttermilk cake is great for second breakfast, elevensies, afternoon tea, dinner, supper. just about any time! Recipe below. [Happy Hobbit: Second Breakfast Blackberry Cake - Episode 04] [More]

~Hobbit films loaded with new technology
Our own Mr. Cere writes over on Movies.com: The Hobbit: An Unexpected Journey is the first film ever to be released in seven formats. Seven. Formats. In an era where studios are still pushing 3D movies and the public simply wants good storytelling, here comes Peter Jackson in his return to Middle-earth surfing the lead wave of a new cinema technology, crashing at a theater near you December 14. [More]

~Rare animals praised for acting up for The Hobbit
Christchurch's own Nellie the cow could join the likes of Lassie, Flipper and Skippy when she makes an appearance in Peter Jackson's upcoming blockbuster The Hobbit. The female miniature Galloway was "just meant to be floating in the background" of a scene in the long-awaited Peter Jackson movie when she walked up behind an actor, knocked his hat off and started licking his bald head. [More]

~Hobbit read-a-thon in Birmingham, Alabama this Saturday
Desert Island Supply Co. is a new Birmingham-based creative writing program for kids (it's very similar to 826 Valencia in San Francisco). To celebrate their Grand Opening on Saturday, November 17, they will be hosting The Hobbit Read-a-Thon. That's right, all through the day, they'll be having an out-loud, non-stop reading of J. R. R. Tolkien's classic childrens' tale. [More]

~Latest TV spot -- number 7!
There's a new TV spot out there for The Hobbit: An Unexpected Journey. This one contains some fun with the dwarves; check it out here. Thanks to Ringer Elf-friend for the heads up! [More]

COMMUNITY NEWS:
Note from the Mods:
We would like to invite the moderators of other fandom communities to become 'reporters' or 'scouts' for
middleearthnews
. All we ask is that you send us formatted updates on your own communities for posting here.
•
faramir_fics updates:
•
sons_of_gondor updates from co-mod.,
caras_galadhon:
Saturday, Nov. 10 through Thursday, Nov. 15 inclusive.
The Prairie Kid: Part 1, Part 2 and Epilogue by mooms and govi20
(Sean/Viggo; R; It's 1950 and Sean has a job in the Picturedrome and he meets a celebrity.)

While these are the LotR FPF and RPF fics/art that have been posted to
sons_of_gondor this week, the mods would like to remind everyone that the comm also carries other FPF/RPF featuring the Gondorian actors in non-LotR roles.
CHALLENGES/WORKSHOPS/AWARDS:
Your friendly
middleearthnews
mods are constantly on the lookout for all things LotR-related, from fics to fandom events, comics to current news. Make them happy by emailing them at
middle_earth_news@yahoo.com
.
FIC/ART NEWS:
•
The Circles of Power, Book Five: Through the Valley of Death
by
angmar_elfhild
(Epic AU; Rated Mature.)
The Circles series celebrates its 8th anniversary on November 15. To celebrate, Angmar and Elfhild have uploaded THREE new chapters:
Chap. 13 - The capricious hand of fate touches the twins' lives again, and they discover that retribution has fallen upon some of their tormentors.
Chap. 14 - Crossing the Anduin - The twins learn the fate of a slave who did not please Esarhaddon uHuzziya.
Chap. 15 - Elffled's innocent daydreams turn to thoughts of domination. It is, after all, the other side of the river... where the corruptive influence of Mordor lies heavy.

DISCUSSIONS OF INTEREST:
•
From TheOneRing.net:
•
From Tor.com:
~The Hobbit Reread: Chapter 1, "An Unexpected Party"
Welcome to the reread of J.R.R. Tolkien's The Hobbit, where we will consider one chapter of the book per week...I'll be interested to see if this re-read brings me as many surprises as the The Lord of the Rings re-read did, and I very much look forward to hearing what you all think. [More]

CLASSIFIED:
•
From
lotrips_finders:
~Looking for some fics
First, I'm looking for some stories that have to do with Sean Bean and Orlando Bloom and the mudslide incident...Second, I'm looking for any stories that set during the LOTR filming--focusing mainly on Orlando Bloom and either (or both) Sean Bean and Viggo M.

•
From TheOneRing.net:
~An Unexpected Art Show -- Call for Entries!
Last week we announced that the TheOneRing.net hosted art show has been pushed back to February 22, 2013. Here are more details as we are still accepting entries from the Tolkien Art Community until February 1, 2013. [More]

~Announcing Line Party t-shirts! Be a part of the 'world tour'
There is something pretty special about banding together with fans in your area and fans world-wide to experience The Hobbit collectively. Following the tradition of Line Party events held a decade ago, our shirt designer Chris Lyons put together a shirt for TheOneRing.net's fourth party experience. Modeled after a concert tour shirt while still celebrating dragons and dwarves, we want to make this one available to as many attendees as possible. [More]

~Collecting The Precious: Weta Workshop's The Fellowship of the Ring Set Two
In June of this year the folks at Weta Workshop answered a long-standing request from the fans of Middle-earth with the release of Set One of The Fellowship of the Ring three-part set. Well, on the heels of the debut of Set One (review of said set coming soon), Weta has announced Set Two. [More]

~Warner Brothers Launches Official Hobbit and LOTR Shop!
The great folks from WBShop.com have just sent us word -- the official shop of The Hobbit and The Lord of the Rings is now open at HobbitShop.com! To celebrate, they are hosting special Grand Opening discounts site-wide as well as premiering some great new products. Need a 14ft wide panaramic character poster for your wall? [More]

RESEARCH AIDS:
•
From
estelanui:
~Languages constructed by J. R. R. Tolkien
Tolkien is among the most famous and prolific of conlangers. He constructed -- to varying degrees of detail -- more than twenty languages, each with a unique grammar and vocabulary. The exact number of languages constructed by Tolkien is unknown, for many of his linguistic papers are still unpublished.

TRIVIA:
•
Wednesday's MOVIE question:
Which pastime are the men at Sam's table in the Green Dragon partaking in?
Answer:
Smoking.
frolijahfan
was absolutely correct!
More next week!
SEND MATHOMS:
•
HAPPY BIRTHDAY,
alexajohnson!
•
HAPPY EARLY BIRTHDAY,
aglarien1!
Enjoy your weekend!
The mods would like to wish anyone having a special day the very best. Please send your special wishes to
middle_earth_news@yahoo.com
.
COMICS:
(Link contributions are welcome)
•
From
grimnir1: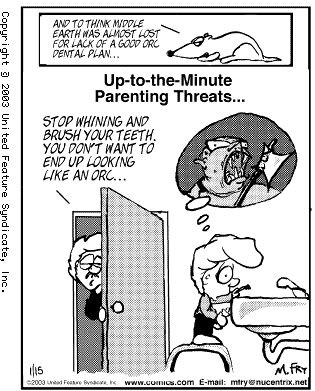 That's it for this edition. Please send your formatted post for Monday's edition by 8:00 a.m. Monday (Eastern time) to middle_earth_news@yahoo.com. Thanks for joining us and tell your friends!