Volume 109/Issue 6

Circulation: One thousand, one hundred and seventy-four. Welcome all!

Note from the Mods: Please encourage friends on your friends list to join and send their news. If you have an announcement you would like to make, a fic you'd like to promote, a question you'd like to ask, we invite you to simply format it according to the rules on the info page and email it to middle_earth_news@yahoo.com. You do not have to be a member to post but we are an open community and encourage everyone to join now. Only the mods may initiate new posts but comments are encouraged.

MEDIA NEWS:

• From TheOneRing.net:

~The Great Hall of Poets
Welcome to The Great Hall of Poets, our regular monthly feature showcasing the talent of Middle-earth fans. Each month we will feature a small selection of the poems submitted, while the rest of the submissions will be available in a new Poetry page we're currently working on. Join us by the hearth and enjoy! [More]

~Digital Times: why The Hobbit sequel will be (not much) better
There's still some three months before The Hobbit: The Desolation of Smaug debuts on our screens (four if you're unlucky!). Yet wider geek fandom is already looking ahead to what we can expect. In this article, The Digital Times suggests that The Desolation of Smaug may prove the high point of the three (unusual, as middle films in a sequence generally are regarded as the weak link). The author's reason? Spiders. Mirkwood. Beorn. Wood-elves. Lake-men. And Smaug. [More]

~Happy Hobbit: The Exposé -- Episode 23
As part of TheOneRing.net's recent Light the Beacons fundraiser, Heather (AKA: IStoleTheOneRing from the Barliman's Chat) won a guest spot with the Happy Hobbit team. What started off as a friendly chat quickly devolved into an exposé... and an attack of a clone! [More]

~Fan-made Lego animation of Riddles in the Dark
This is a cute little Lego animation of part of the Riddles in the Dark sequence from The Hobbit: An Unexpected Journey. Thanks to Ringer Adam for the link. [More]

~Join TheOneRing.net to party in Manhattan!
October 10th to 13th TheOneRing.net will be in the Big Apple, for New York ComicCon. We'll be at Booth 3008, so we hope you'll come by to say hello, chat with us and maybe buy a shirt or try to win something! We'll also be giving a panel on Sunday at 12noon -- 'An Unofficial Sneak Peak at The Hobbit: The Desolation of Smaug'. The panel is currently scheduled to be in room 1A14, but that may change, so check back nearer the time. [More]

~Have you met the Oakentoons?
For the last year or so I've been enjoying these clever and funny toons by PeckishOwl and now we're sharing them with you. So without further ado, meet the Oakentoons. [More]

COMMUNITY NEWS:

Note from the Mods: We would like to invite the moderators of other fandom communities to become 'reporters' or 'scouts' for
middleearthnews. All we ask is that you send us formatted updates on your own communities for posting here.

•
tolkien_weekly (drabbles) updates:
•
hobbitfilmfic updates:
•
sons_of_gondor updates from co-mod.,
caras_galadhon:
Friday, Sept. 6 through Thursday, Sept. 12 inclusive.
The Captain and the Queen (Part 1/6) by evocates
(Boromir/Arwen, Aragorn/Arwen, Aragorn/Boromir/Arwen; PG to NC-17; Three years after she was crowned the Queen of Gondor, Arwen finds Boromir in a small village near the Stone of Erech. Finding him seems easy when compared to her new Quest of bringing the Son of Gondor back home.)

treasured by noalinnea
(Sean/Viggo; G; Sean cannot sleep. And neither can Viggo.)

While these are the LotR FPF and RPF fics/art that have been posted to
sons_of_gondor this week, the mods would like to remind everyone that the comm also carries other FPF/RPF featuring the Gondorian actors in non-LotR roles.

CHALLENGES/WORKSHOPS/AWARDS:

• From
lotr_community:
• From
sons_of_gondor:
~Signups for the Sons of Gondor Exchange Close TODAY!
This is the final day to throw your hat in the ring! Now's the time to sign up for the Eighth Annual Sons of Gondor Trick or Treat Fic/Art Exchange.



This exchange is open to both fiction and artwork, FPF and RPF, slash (m/m and f/f), het and gen. Single-character pieces, pairings and groups (OT3+) are welcome. Our only requirement is that at least ONE of your requested characters is a son/daughter of Gondor, character or actor. (And if you're only interested in FPF or RPF, not both, we can accommodate that too.)

Fics should be at least 500 words long, artwork at least a couple hours' work.



Signups are currently open, and go through to Fri. Sept. 13, 11:59 pm Pacific Time. All fiction/art is due Oct. 21 (11:59 pm Pacific Time), and will be posted to the community on Oct. 31. More details and the signup post itself are available here.

We've had a lot of fun in the past, and there's plenty of room for everyone, from die-hard OTPers to people looking to scratch that really rare pairing itch. So no matter what turns your crank, be it Men with Men (or Women with Women, or Men with Women, or Men or Women alone, etc.), Men with Hobbits, with Elves, with Dwarves, Orcs or Ents, so long as one half of the (FPF or RPF) pairing is (loosely) Gondorian, you're welcome in our pool.



So come on over and play with us! Please feel free to spread the word, and Happy Trick or Treating!
FIC/ART NEWS:

•
lotricons updates:
• From AO3 - Archive of Our Own:
DISCUSSIONS OF INTEREST:

• From TheOneRing.net:

~Tolkien and Metafiction
[Brljak] argued that the overall conceit of the Lord of the Rings -- that it is ultimately a translation of an unknown number of 'manuscripts' (only the initial manuscripts in the tradition having been actually written by Bilbo, Frodo and Sam) -- is actually its defining characteristic and should be granted far more attention. [More]

CLASSIFIED:

Your friendly
middleearthnews mods are constantly on the lookout for all things LotR-related, from fics to fandom events, comics to current news. Make them happy by emailing them at middle_earth_news@yahoo.com.

RESEARCH AIDS:

• From
estelanui:
~The Tolkien Music List
The purpose of this web site is to provide an exhaustive discography of musical works inspired by or referential to the fictional writings of J.R.R. Tolkien.

TRIVIA:

• Wednesday's MOVIE question: What snarling creature does the battering ram used in the siege of Minas Tirith look like?

Answer: A wolf (or warg).


addie71,
helenllama,
frolijahfan,
lindahoyland and
febobe all answered correctly.

More next week!

SEND MATHOMS:

• HAPPY BIRTHDAY,
12dozenroses!

• HAPPY EARLY BIRTHDAY,
frodoslegacy and
grean! Enjoy your weekend!

The mods would like to wish anyone having a special day the very best. Please send your special wishes to middle_earth_news@yahoo.com.

COMICS:
(Link contributions are welcome)

• From I Can Has Cheezburger: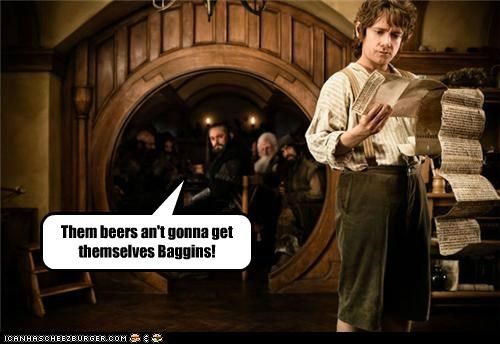 That's it for this edition. Please send your formatted post for Monday's edition by 8:00 a.m. Monday (Eastern time) to middle_earth_news@yahoo.com. Thanks for joining us and tell your friends!