Volume 104/Issue 3Circulation:
One thousand, one hundred and seventy-one. Welcome all!
Note from the Mods:
Please encourage friends on your friends list to join and send their news. If you have an announcement you would like to make, a fic you'd like to promote, a question you'd like to ask, we invite you to simply format it according to the rules on the info page and email it to
middle_earth_news@yahoo.com
. You do not have to be a member to post but we are an open community and encourage everyone to join now. Only the mods may initiate new posts but comments are encouraged.
MEDIA NEWS:
•
From TheOneRing.net:
~No restrooms in Middle-earth?
There's a passage near the beginning of "The Fellowship of the Ring" (the book, not the movie) that, on the surface, seems peculiarly innocuous -- so innocuous that I'm not sure why J.R.R. Tolkien bothered to include it. Frodo, Sam and Pippin had just woken up after the first night of their journey, the journey that would take the Ring from Bag End all the way to Mordor. Still in the Shire, they had slept under a tree. [More]

~Exclusive Look at 'The Hobbit: An Unexpected Chronicles II: Creatures and Characters'
We are very privileged today to share with you an exclusive spread from HarperCollins' April 9th release of The Hobbit: An Unexpected Journey Chronicles II: Creatures & Characters. Compiled by one of our favorite people at Weta, Daniel Falconer, this follow-up to the first Chronicles book highlights all of our favorites from the film. Check out the Bilbo Baggins spread below (click for a larger version) and pick you your copy on the 9th! [More]

~#VoteBilbo becomes a thing via Twitter,trends in UK, US, will you join the cause?
Back in the First Age of TheOneRing.net when the interwebs were new and fansites were breaking ground on the way movies were covered, TORn used to consistantly swamp media or website polls that featured any "Lord of the Rings" characters. We would vote for J.R.R. Tolkien as the Author of the Century or something and chat about "what if Sean Connery is cast as Gandalf." It was fun for a while but it actually got a little tiresome and the practice slowly faded away. There just wasn't a need for Tolkien fandom to validate its place in the pantheon of fantasy or entertainment or popular culture. It was a nice memory or footnote in our online community's culture. [More]

~Peter Jackson weighs in on the embattled F/X industry in Hollywood
The Visual Effects industry in Hollywood is in the midst of a crisis that just seems to be getting bigger and bigger. Entertainment Weekly has been keeping on top of the issue and posted a story today that included Peter Jackson's thoughts on the problem. [More]

COMMUNITY NEWS:
Note from the Mods:
We would like to invite the moderators of other fandom communities to become 'reporters' or 'scouts' for
middleearthnews
. All we ask is that you send us formatted updates on your own communities for posting here.
•
b2mem updates:
•
tolkien_weekly (drabbles) updates:
•
oeam updates:
Origins: Chapter 1, Chapter 2, Chapter 3, Chapter 4, Chapter 5, Chapter 6, Chapter 7, Chapter 8, Chapter 9, Part 1/2 and Chapter 9, Part 2/2 (Maedhros, Fëanor, Glorfindel, Elves; NC-17) by samtyr

•
hobbitfilmfic updates:
•
sons_of_gondor updates from co-mod.,
caras_galadhon:
Friday, March 29 through Friday, April 5 inclusive.
Interlude: Part 5 and Part 6 by rubyelf
(Aragorn/Boromir, Faramir/Legolas, Berendir/Eomer; NC-17; Legolas returns without notice, and Faramir's attempts to question him are derailed by other, more immediate demands. Eomer also arrives, but his immediate demands are forced to take a seat, since Berendir has established some new rules. Eomer learns some very interesting things to do with leather. Faramir enjoys the return of a very enthusiastic Legolas, but suspects, with good reason, that he's far from finished keeping secrets.)

The Comfort of Sleep by raven22372
(Boromir/Faramir; PG-13; If a picture could be a sequel to a tale, this one would continue the story of Not You.)

The Need of Comrades: Chapter 4 and Chapter 5 by splix
(Viggo/Bean; NC-17; In 1906, two young men from very different backgrounds meet and form a friendship.)

a thousand years by evocates
(Aragorn/Boromir, Aragorn/Arwen, Eldarion; NC-17; King Elessar brought a hundred twenty years of peace to the lands of Men. In Fourth Age 120, he lays down to rest, and history can record no more. But there are other forms of memories.)

monologues for two (Part 16/?) by noalinnea and evocates
(Viggo Mortensen/Sean Bean; NC-17; Sean's departure is looming ahead, but somehow Viggo and he keep each other cheerful.)

A Pixie-Tale (Part 2/?) by ms_ivory
(Sean Bean/Viggo Mortensen; NC-17; Sean makes an unexpected discovery in the rain.)

While these are the LotR FPF and RPF fics/art that have been posted to
sons_of_gondor this week, the mods would like to remind everyone that the comm also carries other FPF/RPF featuring the Gondorian actors in non-LotR roles.
CHALLENGES/WORKSHOPS/AWARDS:
Your friendly
middleearthnews
mods are constantly on the lookout for all things LotR-related, from fics to fandom events, comics to current news. Make them happy by emailing them at
middle_earth_news@yahoo.com
.
FIC/ART NEWS:
•
lotricons updates:
•
Via
mechtild:
•
From AO3 - Archive of Our Own:
DISCUSSIONS OF INTEREST:
•
From Tor.com:
~The Hobbit Reread: Chapter 19, "The Last Stage"
Though there are foreshadowings of The Lord of the Rings here, this is unquestionably a far happier ending. No, home isn't the way Bilbo left it and he doesn't fit in any more, but except for the inconveniences of having to be declared alive and trying to get his stuff back, he doesn't actually care. The only potentially-bitter note is the bad end of the old Master, and even that has no hint of regret at the depths of his fall, the way that Saruman's end does.

•
From TheOneRing.net:
CLASSIFIED:
Your friendly
middleearthnews
mods are constantly on the lookout for all things LotR-related, from fics to fandom events, comics to current news. Make them happy by emailing them at
middle_earth_news@yahoo.com
.
RESEARCH AIDS:
•
From
estelanui:
TRIVIA:
•
Wednesday's MOVIE question:
Who, in his final moments, despairs that "the world of Men will fall and all will come to darkness?"
Answer:
Boromir.
frolijahfan
,
heartofoshun
,
namarielorien
,
basserandstuff
,
febobe
,
periantari
,
juliebeth
and
0flipflopdiva0
all answered correctly.
More next week!
SEND MATHOMS:
•
HAPPY BIRTHDAY,
birdcordwangler and
rhyselle!
The mods would like to wish anyone having a special day the very best. Please send your special wishes to
middle_earth_news@yahoo.com
.
COMICS:
(Link contributions are welcome)
•
From Dork Tower: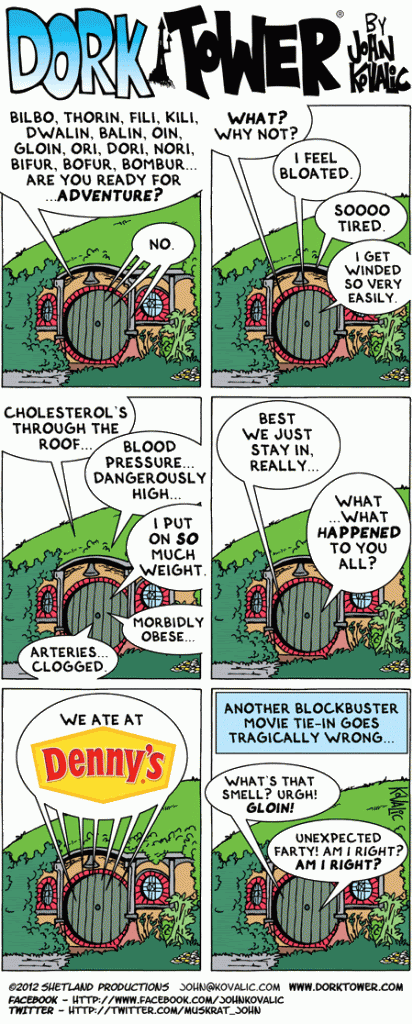 That's it for this edition. Please send your formatted post for Monday's edition by 8:00 a.m. Monday (Eastern time) to middle_earth_news@yahoo.com. Thanks for joining us and tell your friends!